Business Objects XI R2 CMS Security Viewer is a useful administrative tool provided freely by Business Objects. It allows one to analyze your security models without having to actually alter user group membership or login as different users. The tool should not be need in Business Objects XI Release 3.0; however, it can be very useful in BO XIR2. We are still figuring out all of the uses for this tool since we recently got it up and running on our system after we got our hands on a functioning version.
Business Objects XIR2 CMS Security Viewer 2.1 Doesn't Work
At the writing of this article, I believe that Security Viewer 2.1 is the latest version of this tool. However, we like so many others found that this tool crashed immediately, just as soon as the application opened. Through some research, testing, and BO-Support feedback it appears that BO XI R2 CMS Security Viewer 2.1 does not function with BO clusters which have installed the Productivity Pack. Apparently this little bug was planned for correction in Fix Pack 3.7, but I haven't yet confirmed this rumor became reality.
Give BO Security Viewer a Try
The simple solution for most teams is to just use the 2.0 base version of BO Security Viewer. This version does not have any problems with the productivity pack. HOWEVER, obtaining a copy of BusinessObjects Security Viewer 2.0 can prove to be quite challenging as it seems that Business Objects does not distribute copies of previous versions on their website.
UPDATE – Business Objects Security Viewer 2.2 Available
I just added Security Viewer 2.2 to our server so you can download it from their directly. I hope I don't upset the powers that be at SAP Business Objects. I had to navigate a lot through the SAP Support Portal web site to find the download so I thought I might save all of you just a little bit of time. Here is the link:
Business Objects XI R2 Security Viewer 2.2
Download BO Security Viewer 2.0
However, since I still have a copy BO Security Viewer 2.0, I feel obligated to share it with those who might stand in need of it. I haven't altered the *.msi installation package in anyway, except to zip it up so as to prevent some recipients from unintentionally trying to install it directly from my web server. Believe me, just download the 10 MB zip file, extract it, and install.
Link to Download Business Objects XI R2 CMS Security Viewer 2.2
Link to Download Business Objects XI R2 CMS Security Viewer 2.0
A Hint on the JAVA_HOME Environment Variable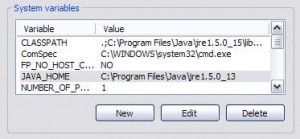 You may need to configure a JAVA_HOME path variable by setting creating one through Start > Control Panel > Settings > Advanced > Environment Variables, please see screenshot for an idea.