CMSPro is a metadata exploration and analysis tool for Business Objects Enterprise XI 3.  The application simplifies the process of querying the CMS by helping to formulate any type of repository query, and displaying the results in an easy to read, customizable table layout.  It also offers a new field which consolidates the most important data about various objects types, into one column.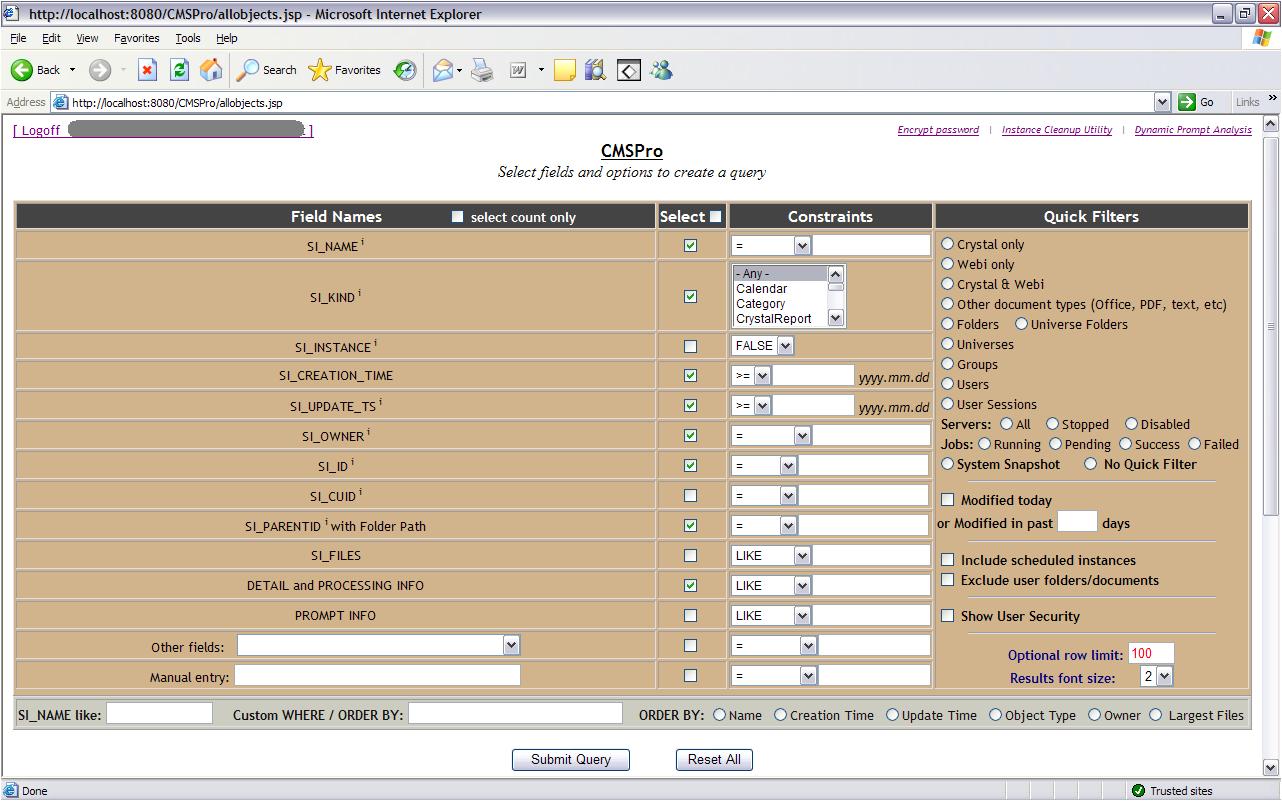 CMSPro query design page
CMSPro allows viewing, dynamic drilling, and exporting of the Business Objects CMS repository data in a quick and easy format, entirely via web browser. It is a powerful combination of ease-of-use and flexibility, which will save any administrator much time and effort in getting the information they need.
This application is designed to be intuitive and quick to use.  It is also simple to deploy on any Tomcat version 5.5 or 6, either on a server or PC. These are just a few of the things you can accomplish easily with CMSPro:
•  Quickly find any object & system metadata
•  Perform impact analysis for system & object changes
•  Document your environments regularly (support Audits)
•  Quickly find anything created/changed recently
•  Drill into object relationships such as Universe: Webi docs or Connection:Universes
•  Navigate object hierarchies and view metadata
•  Navigate User / Group relationships
•  Find large files and documents which may be causing performance or capacity problems
•  Assist in system cleanups by finding dependents, empty folders, inactive users etc.
•  Take a system snapshot for analysis of performance issues
•  Find internal problems such as unbound WebI docs
…
To learn more about a few of the many features, there are three options offered for you:

Watch a short 10 minute WebEx recording which shows basic tasks that can be accomplished just send an email request to cmsprostaff@gmail.com
Get the PowerPoint product overview by requesting at cmsprostaff@gmail.com
Learn the full technical details or talk to the technical staff concerning the product and pricing, email cmsprostaff@gmail.com