Background
Backing up a BusinessObjects Enterprise system is not the easiest of tasks and normally requires the database and cluster to be taken down to ensure the system database and file store are correctly synchronised. Retrieving a single document from the backup can involve restoring a clone system to access the single document or overwriting the current version of the cluster. In this case users are often told that a restore of a document is not possible or cost effective.
What is BI Content Assistant (BICA)?
BICA is a software solution for BOE support staff and administrators which provides hot backup, restore, movement and management of BO XI3/BI4 content (documents and universes). Historical versions of individual BusinessObjects documents can then be restored in seconds.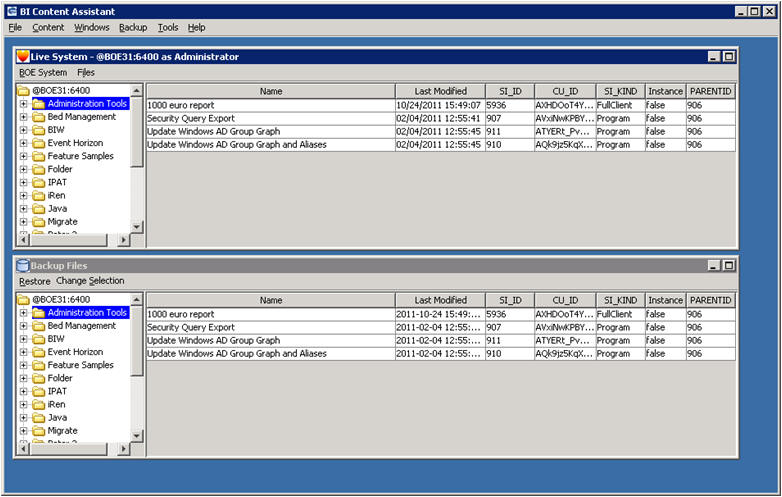 BICA Features
BICA rapidly captures content to an Oracle or MS SQL Server database. The database can hold multiple versions of the documents/universes across multiple clusters.
Documents are easily restored using an intuitive graphical interface that displays the live cluster information in one window and the historical version of the folder/document structure in a separate window.
Both public and personal documents are backed up. Instances and inboxes can also be captured if required.
A document can be restored to its original location and CUID, or as a copy which can then be compared to the current live version.
Documents can be restored to a different cluster from that used for the original backup.
BICA also allows for login to two clusters at the same time and subsequent transfer of documents between the two, or to the Windows operating system.
Backups can be run interactively or more usually via the standard BusinessObjects scheduling system.
Backup is rapid as only new or modified documents are captured.
Should the BOE cluster be taken down during a backup, BICA will continue where it left off on the next scheduled backup.
BICA has an archiving system to handle historic documents that are no longer required by deleting them or moving them for long term storage.
BICA comes with a universe which enables the backup information held on the database to be analysed using Web Intelligence, Crystal Reports etc.

View the BICA video on YouTube: link
To learn more or arrange an evaluation mail: Information@SulisSystems.co.uk
View more Sulis Systems Tools for BusinessObjects deployment management including System Database Analysis, Auditing and Documentation tools go to:
www.SulisSystems.co.uk